Each product lifecycle phase has it's own success metrics
A product goes through several lifecycle phases from launch to maturity and then maintainance.
There are some guidelines put in place, but not all are appropriate. Instead of being one product lifecycle, there are many. We will need to understand these first, because the milestones put forward by some of the frameworks can and will impact the product's success.
Let's now discuss the problematic frameworks that were put forward to help the entrepreneurs guide them towards a long lasting sustainable business. Keep in mind, these were developed to solve a particular problem at a specific time, no framework that can snapshot a business can guarantee success.
This is going to be a long post, so if you want to skip towards the metrics directly, you can use the TOC above and skip right to: "Stages of a lean product lifecycle"
The Product Development model
The Product Development model had a wide acceptance during the 1950s and gained a lot of traction during the 20th century. As we've discussed in other posts, you might already have a hunch what's wrong with this model. HINT: it's old!
Not that it's old, but mostly because other than showing a structured way of looking on the entirety of the product, it doesn't help the new entrepreneurs at all, because it's structurally wrong. First let's briefly describe the process:
Concept / Seed round: here the entrepreneurs think of what their product and service is, how their business plan looks like and LASTLY who their customers are and how to reach them. With this in writing, they go to potential investors to back up the business plan and financial model with money;
Product Development: This is the step for engineering blueprints and marketing prepares a Marketing Requirements Document that is being delivered towards the engineering team. Sales and PR starts at this phase as well;
Alpha/Beta test: The testing of the product ensues, Marketing develops a communications plan and Sales takes the lead. Investors are happy;
Product Launch: Sales is scalling, Marketing is already developed and product measurments starts, of course by comparisson with the already set in stone business plan ( all the way up to Concept ).
What's wrong with the model:
Customers if present, are designed on paper, by the marketing department ( aka never leaving the building );
Investors invest without relevant data, only a business plan "back of the napkin" and measure expectations on the last phase "Product Launch". Until then…money is spent;
The whole plan is centered on executing: Engineers building, Marketing researching and Sales…well selling. Where is the learning? There isn't any. As point 2 above, everything is assumed from "Concept / Seed round". Assumptions are never challenged against the market;
Lack of proper milestones for Sales, means that until the "Product Launch" phase, you won't have any idea if the sales strategy and plan actually work;
Lack of proper milestones for Marketing, the materials are built in "Product Development" by never leaving the building, real customers are if consulted or seldom.
And now to top it off, imagine you were the founder or an investor, with stakes in said company, what will happen if "Product Launch" doesn't deliver?
The Chasm: meet your wildest dreams
The Technology Adoption lifecycle model is another product lifecycle framework developed in the 1990s in tandem between Everett Rogers and with the "Chasm" theory popularized by Geoff Moore.
Now imagine you're an entrepreneur and you've started your business and now you have the below graphic to guide you.
It promises that once you reach the mainstream market, by hopefully crossing the chasm that separates early adopters from the early majority, then and only then you will reach success.
Now, with only that information in mind, what do you think will happen in the fresh entrepreneurs mind.
Here is a rough thinking process:
You will start building as soon as possible;
You will focus on getting the "Innovators" and "Early Adopters" as fast as possible.
Hope you've identified the problems that arise from this model as well. First, customers NEVER fit in a nice looking curve. Who do you think plotted the percentages, what was the size of the statistical group ( companies big and small should fit in this ), who interviewed the customers, etc? Neither the customer segments or the customer growth function will fit on this nice looking curve except in text books.
Second, it doesn't speak about the customers problems, what exactly the entrepreneur is trying to solve with the said product.
Third, the "Innovators" and "Early Adopters" are the first customers that jump on board, because your product solved a problem for them, they are by far the most paying customers and the ones that can tell you something about the market, rushing over them doesn't sustain "learning".
You cannot create a market or customer demand where there isn't any customer interest

The Four Steps to the Epiphany – Steve Blank
The alternative: Lean Start-up and precursors
Customer Development
The Customer Development framework are one of the frameworks that rose during the 1990s. The author, Steve Blank popularized it in his book "The Four Steps to the Epiphany". His motto is "that no business plan survives first contact with customers".
He argues that before you even start describing and writing the business plan, you first have to document your hypothesis and validate these hypothesis. After the hypothesis are validated, only then you write a business plan, with the lessons learned from the validated hypothesis.
The book and resources on the topic is very vast, due to the shift in mindset from the old way of doing ( previous topics ) to the new ones.
Please check Steve Blank's blog here (https://steveblank.com/category/customer-development/) .
Also this video here is a 2 minute watch that does a quick explanation of the phases of Customer Development process:
Eric Reiss: The Lean Start-up movement
Picking up "Customer Development" product lifecycle from Steve Blank at UC Berkley and combining it with his prior knowledge of lean manufacturing and lean software development, he began to document this on his blog in 2008 and what follows is a book that was published in 2011 called: "The Lean Startup".
The whole product lifecycle in the lean startup, follows the build-measure-learn phases described below: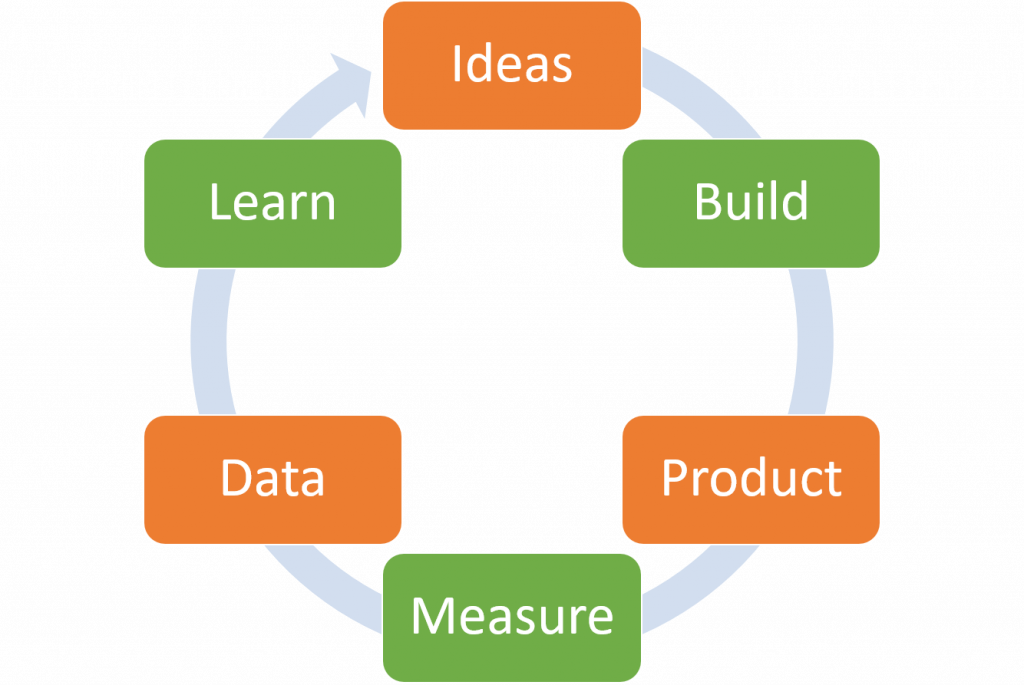 The "Ideas" phase: Here we define the idea that we want to implement and hypothesis to validate our idea. We also define how to measure our hypothesis and how to gather this data: customer interviews, surveys, data analytics can all be part of this process;
The "Build" phase: Based on the previous step we build an MVP ( Minimum Viable Product ), you can read more about different types of MVPs here: https://devathon.com/blog/top-10-best-examples-of-mvp-minimum-viable-product/ . The idea behind a MVP is to have the minimum subset of features, that measure your original hypothesis and test how the customers behave. It can be a landing page, it can be an email list. For example, you can have a landing page that shows some photos of a product and everything else like payment and delivery can be done manually OR you have a great idea to launch a toy selling shop for the fresh parents in your neighbourhood, you launch a site with various toys ( that you don't neceserally have ) and just track the interest in each category ( by measuring clicks ). On the toy page itself, you can just display, coming soon and get the users email for priority processing. Now you know what to order 🙂 ;
The "Product" phase: Was briefly discussed in the previous point, the "Product" is just a minimal subset of the whole product to be developed;
The "Measure" phase: We measure the outcome of the "Build" phase. How does it measure compared to our initial hypothesis, do we have relevant data to continue our business? What can we …
The "Learn" phase: learn from our "data", do we continue, or do we Pivot? Pivoting means that the data that was collected from the MVP disproved your hypothesis, BUT you've gained valuable insight on how to continue next. You can implement the lessons learned in a next MVP by adding features that support the lessons learned ( or removing features ). So the whole loop repeats itself.
The advantages of this product lifecycle model is that it reduces waste, you don't waste time and money building something nobody wants and instead you get data very close to the inital planning phase of the product ( compare this with the classical Product Development model ).
Stages of a lean product lifecycle
Now that we have an overview of the available product lifecycle frameworks ( this of course is no definite walk through ), we can concentrate on the latest ones. All of them will start with:
Problem/Solution fit success metrics
The Problem/Solution fit starts with defining the hypothesis (the problem) and ends with an MVP (or a demo/ the solution). On this stage, most of the metrics are evaluated qualitatively. Onward from now, I'm going to present an example and for brevity's sake, we're going to stick to the happy-path resolution, if you're interested in more, I will happily make another post covering all scenarios.
In order to setup the Problem/Solution success metrics, you will need to setup the hypothesis and arrange them, based on categories.I prefer using a graphical representation. Ash Maruya in his book "Running Lean" proposed a hybrid model from Alex Osterwalder's business model canvas , which is more customer centric. Below you will find an example of how it looks like and order of completion (post-its added for order).
You can read more about the Lean Canvas here: https://leanstack.com/lean-canvas
Even if at this stage the metrics are qualitative, they should be actionable, not vanity metrics ( time spent on, number of downloads, click rates, etc. ). Vanity metrics by themselves don't tell the bigger picture. Other criteria that they need to satisfy is: accessible (simple reports) and auditable(anyone can trace down source data and generate them). Also, metrics are people related.
The three A's of metrics are: Actionable, Accessible, and Auditable.

"metrics are people too"

Eric Ries – The Lean Startup
The Problem
Coming back to our process, we have the following actions to take before measuring anything:
Define problem that you're trying to solve and existing alternatives on the market that addresses this problem ( competition ), it's best if you have 3 TOP problems;
With the problem in mind, think about customer segments ( identified by personas and behaviours first, later add general demographics like age and gender, follow the 80/20 rule ) that might have the problem that you've identified;

Out of this broad segment of customers, duplicate the characteristics of what you think the Early-Adopters are. CAUTION: Don't think about this too much, you will hone in on them after the whole process is done and/or repeated. As a general rule of thumb, early adopters are the ones who already pay for an existing alternative to settle their need ( answered their problem );

You define the Unique Value Proposition, what sets you appart from the competition, what extra value you offer and a High Level Concept. The High Level Concept is a very shorthend pitch of the Unique Value Proposition to help you clarify the idea when presenting this to your customers, eg: It's like google for shoe-laces;
A rough sketch ( as you can see, we don't start with "Execution first" ).
For the sake of an example and to have this business model more settled in, I will use our shoe-laces example in my Miro board:
Next we define our falsifiable hypothesis. Preferable to be a ratio of 1:1 for each problem and customer segment, so in the spirit of our example, we will start with our Problem and Customer Segment:
[Specific repeatable action] will [Expected Measurable Outcome] eg: Searching for custom shoe-laces takes a lot of time for 80% of teenagers
We repeat this step for each Problem we've identified + Key alternatives.
Next we conduct a problem interview with a set of potential customers and document the results based on our initial hypothesis.
Do we have it validate the initial hypothesis? If not, what were the other concerns of our customers? Were the customers in our target customer segment? Was this problem a major pain problem for them? Do they currently use any alternatives? If yes, were these alternatives found in our list?
In this step it is very important to quantify the results, even if they are in percentages. For each question above, after the problem interview, document percentages.
If the problem is relevant and you've validated your major hypothesis, next we will document the solution.
The Solution
After you've validated your customers main pain points, your main problem/s that you want to tackle, you're now ready to define an MVP/demo ( different authors use different terminology, what is important is that it does not have to be a real-life technical solution, it can even be a sketch ).
In this step, you validate the features and the pricing model ( see below example ).
Let's assume that after you have your first Problem Interview, you have reached the following conclusions:
Your customer segment was on spot;
Your customer segment wanted something that matched their preferences;
Your customer segment wanted to also promote their own products;
The customer segment that wanted to promote their own products didn't find anywhere this possibility ( early adopters ).
So, in Purple post-its I have highlighted the new findings and have added the solution and the pricing model we want to base our Solution Interview on.
Please also note: that I have defined the Cost structure and Breakeven for both of the customers. Preferably, the two customers should be put on two Lean Canvases separately and the risks and benefits weighted as such, but for brevity's sake I have kept them on the same canvas. The numbers have been rounded up.
Now, continuing with the process, you will contact the first batch of the problem interviewees and present them with a sketch of the designed solution. With this sketch, you will try to find: if the Early adopters are satisfied, if the problem has been solved, some minimal features to solve the problem and most importantly – if they are willing to pay the price you have calculated ( roughly ).
Potential outcome of Problem/Solution fit
At least 10 customers wanting a MUST HAVE solution for their PROBLEM;
At least 10 customers saying they MUST HAVE your SOLUTION;
At least 1 FEATURE and 5 early adopters that will pay for it.
With this setup you're ready to move forward with a first implementation of the features as an MVP. Note that I've used sketch in the previous paragraph, you can have a drawing, a presentation, a video, whatever, what is important to have is the pricing feedback and a list of minimal features to schedule your first release, let's call it, your first MVP.
There can be multiple types of MVPs, here are some examples.
The "pirate" metrics
During each stage of the process, be it problem/solution fit, product/market fit or scaling, you will need to focus on some macro-metrics to improve, specific to the product lifecycle stage you're in.
The macro-metrics that don't require a lot of knowledge and can easily tell you where the blocking points are, are the Pirate Metrics. They are called like that because of their acronym: AARRR ( Acquisition, Activation, Retention, Revenue and Referral ). See below a graphical representation of such a funnel.
On Product/Solution fit, you should focus on Acquisition and Activation, because now your main goal is learning and validation.
We will assume Revenue, as we presume you charge from this stage. It will remain assumed for the rest of the stages, but they are not the main criteria. I bet you can think of a product that is payed but simply not used :).
Product/Market fit success metrics
There are many definitions of the product market fit, Marc Andreessen coined the term in his post The only thing that matters .
The definition that Marc Andreessen brought forward is:
Product/market fit means being in a good market with a product that can satisfy that market.

Marc Andreessen
The Product/Market fit is a constant process, the same as the Problem/Solution fit. You have to do anything that is required to stay in this stage, all the while keeping a watch on the market competitivity .
Another quote from Marc Andreessen
Do whatever is required to get to product/market fit. Including changing out people, rewriting your product, moving into a different market, telling customers no when you don't want to, telling customers yes when you don't want to, raising that fourth round of highly dilutive venture capital — whatever is required.

When you get right down to it, you can ignore almost everything else.

Marc Andreessen
Metrics
Sean Ellis survey method;
Cohort retention;
Net Promoter Score;
Lifetime value to customer acquisition ratio (LTV/CAC).
I will not cover points 1,3 and 4 ( will discuss all of them in another post ) but for now I will focus on point 2, the Cohort retention, because during this stage, the pirate metric that is most important is Retention. A cohort is a group of users that share an attribute in common, like: "join date", "logged into account", "personal plan", "retailer plan" ( in our shoelaces example ).
There can be Behavioral Cohorts or Acquisition Cohorts. Behavioral Cohorts target users that do a specific action inside your product, like "users who made a custom shoelace design during a day", "users who shared their design on social media", etc. ( using our shoelaces example ).
Acquisition Cohorts use the attributes that are part of the Acquisition metric, like: "join date", "register", etc.
Here is an example of Cohort Analysis table from Google Analytics demo account:
The Cohort Analysis table is read column by column. In our example, for the users who have "first touched" the app ( our Acquisition sub-metric ), on the date Mar 14 – Mar 20, 2021, in week 1 after they first touched the app, only 11% (280) have returned to our app and have did a touch in our app. The percentages continue to drop for the same users for the following weeks.
Your target during this stage would be to increase the retention rate, using various strategies ( that I will discuss in another post ) to increase the retention rate overall until week 4 ( in our example ).
Scaling success metrics
Once reached this stage, usually this is the time to acquire more capital to ensure your product has more distribution channels, reaches more customers and works to retaining the existing ones. An important pirate metric to focus on this stage is Referral.
You can use the same cohort analysis from the previous stage to improve on Retaining and reducing Churn rate of your customers on different flows. Also focusing on Behavioral Cohorts for increasing Referral actions.
Also in this phase, as you make more revenue, it is important to implement strategies to automate your marketing and brand awareness strategies. So measures regarding the revenue and marketing campaigns also take place at this stage.
It is very important that at this page, you will have to measure the growth rate of your channels and automate the process by measuring the growth rate on each of these channels.
Conclusion
We have discussed the stages of the product lifecycle and frameworks that were put forward to address the problems of growth throughout history. It is important to remember, that independent of the framework adopted, there is no silver bullet.
Stages of product growth are in the end, human made and conceptual, in the end, your customers matter because they are the ones that bring in the money. Remember to also think of stages as dial buttons not on/off switches, the stages intertwine and are never neatly separated ( only in textbooks and 5 year plans ).
While measuring the product success, remember to also keep a close watch on the competitive forces of the market and where exactly your product positions itself. Growing and scaling a product is more an art than an exact science. Different specialists measure differently success and I invite you to research what works for you ( depending on customer base, product specifics and so on ).
Hope you've found this post informative and give me a heads-up if you want me to write more on the subject.
Useful links